Problems are Often Simply Opportunities in Disguise...
"You never want a serious crisis to go to waste. And what I mean by that [is] it's an opportunity to do things that you think you could not do before." – Rahm Emanuel
Hello, my name is Steve M Nash. Today is 16th April, 2020, when I write this, and it's safe to say that these are extraordinary times. Unprecedented health concerns amid unprecedented economic concerns experienced the whole world round. What to do? Well, you do what you can...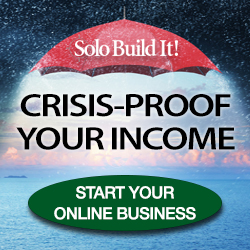 "There's never been a better time to consider doing your life differently."
...Introducing Solo Build It! - an all-the-tools-you need, step-by-step video and action guide that helps you build a Web Business, from your home.
I'm an SBI! affiliate and site owner, and have been so since 2001. And I'm sharing this short message to you today, to let you know that SiteSell, who created SBI! (Solo Build It!), have responded to the Coronavirus situation in a typically unprecedented way. They're offering:
Get SBI! for $100 off, and...
Buy 1 SBI! get 1 SBI! FREE
Now they've run these special offers before, but NEVER both at the same time. This special offer cannot last. Obviously. But even if it's "back to normal" when you click the link below, this really still might be THE time to fully explore doing your life differently.
Alternatively, you can go on to read my somewhat dated guide to Solo Build It! here!
DISCLAIMER:
(*) NOTE: I do make a commission should you decide to buy SBI! via the affiliate links I provide. This doesn't mean you're paying any more for SBI! - you're not - nor does it mean I'm only recommending SBI! to make some money. I'm not.
So this is the direct (non-affiliate) link to SiteSell should you wish it --> www.sitesell.com