TESTIMONIAL:

SiteSell's 5 Pillar Affiliate Program...
"... the perfect revenue sharing program.
"... the best affiliate program on the net"
-- Allan Gardyne, AssociatePrograms.com
About SiteSell's Affiliate Program
(Promoting Site Build It! / SBI!)
Or, How You Can Earn $75 (or more) per sale of SBI!
Hi, as you may know, I'm Steve M Nash, and I'm a SiteSell Affiliate! And I'd like to briefly introduce you to the SiteSell affiliate program, and even to the notion of affiliate marketing (if this is new to you).
Note: I've been a SiteSell affiliate for over 10 years (since 2001), making hundreds of dollars each month (sometimes thousands) - it is no ordinary affiliate program, as this video from SiteSell explains...
Like any form of success, though, success with the SiteSell affiliate program requires that you put hard work into a) understanding the benefits of SBI! and b) recognising the needs of your audience, and then combining the two.
SiteSell make things as easy for you as they can, though, via the following juicy elements:
1st tier commissions of $75 paid for each sale of Site Build It! (25%)
(Earn more if you sell SiteSell Services - aimed at small businesses who need someone else to do it for them!)


Bonus commissions earned for each sale
(Provided you continue to generate NEW SBI! sales.)


2nd tier commissions of 10%
Commissions earned by SiteSell affiliates that join the program as part of your affiliate team (i.e. via your affiliate link)


Free ebooks you give to others.
These ebooks do a great job of pre-selling SBI! and many can be embedded with your affiliate link


Access to other state-of-the-net affiliate tools (e.g. videos)
Includes resources like videos (see below), a full list of deep-links, strategies and tips to help you become more successful as an affiliate.

SiteSell also have a presence on Facebook, Twitter and YouTube - all of which can be used to presell SBI! to your visitors (pre-sell means soft-sell, gently recommend)

Much of this information is free-to-use, even if you are not a SiteSell Affiliate, including the Affiliate Masters ebook! and Make Your Content PREsell ebook
As you'll see from my own free guide to Site Build It!, SBI! is suitable to many different types of people - even affiliates! - and so your success really does depend on how you can get inside the mind of the person you're trying to reach out to, and explain how SBI! can really make a HUGE difference to their lives.
I've been an affiliate since 2001 and I can highly recommend the Site Build It Affiliate Program...
Soon after you signup I will be in touch, to offer you a helping hand and introduce myself too!
(Note: I get notified of all new affiliates that sign-up so I can encourage them to become super-affiliates. Yes, the SiteSell affiliate program is 2-tier, so you can benefit likewise by signing up affiliates too. )
SiteSell Affiliate Resources - Example Video
The following video is a student telling the world how much he loves SBI!
(and Bob Dylan, by the looks of things). I guess it's aimed at students, but it could also be aimed at existing site owners (webmasters), too.
Anyway, the 'Click Here' that you see at the end of the video sends people to the student SBI! page, embedded with my affiliate link. Clever, eh!
And once you've joined SiteSell's 5 Pillar Affiliate program you could be adding these sorts of videos to your website, too...

Signup to the Sell Affiliate Program here*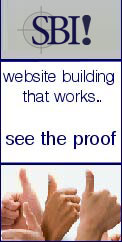 Download Make Your Content PREsell!...
MYCPS! sums up the philosophy behind Site Build It! brilliantly AND you can apply this great creating content advice for any website... FREE!
or

Click to Order and Try SBI Today Risk-Free!
(Includes Yearly And
Monthly Payment Options)